Recruitment
Upon receipt of the application form with all required documents through website, interview will be arranged after reviewing the application documents.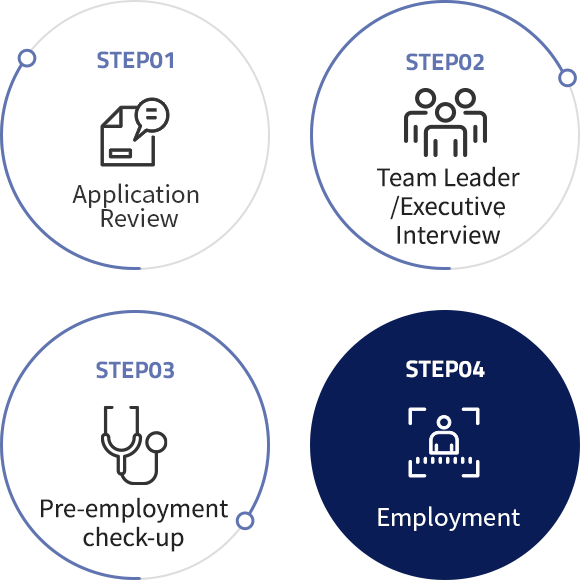 Work
The working hours are from 8: 00 a.m. to 17:30 p.m. on weekdays. Once in the morning, there are two breaks in the afternoon, and We have a five-day workweek. In addition, the company implements a vacation system in accordance with the Labor Standards Act.
Personnel system
Personnel system
Office job
Staff
Senior Staff
Manager
Deputy General Manager
General Manager
Executives
Production job
Staff
Assistant Manager
Manager
* Extending the retirement age to 60 for job security
Salary
We provide an annual salary system for above manager level in order to provide economic compensation per individual ability and performance. And we plan to expand the system to all employees in the future. (In addition, we have profit sharing program through incentive system.)
01

Base salary

Salary per each position & function
Overtime is calculated based on actual working hours.

02

Profit Sharing

Incentives per operating profit.
Human Resource Development
Human Resource Development: The Company encourages to employees to develop the career and competency by providing various training program.
01

Common Education

security, personal information protection, safety, anti-discrimination training, etc.

02

Language Education Subsidy

In-house, On-line and external language courses

03

Job training

training for each function, semiconductor related training, etc.

04

Hierarchical training

OJT for new employees, Training by each position, promotion training, etc.